Triumph TR6p Saint 650cc
Bikes > Triumph List
Triumph Trophy TR6P 'Saint' 1967
Before purchashing the Trophy, UK Police forces had sucessfully operated Speed Twin and Thunderbird models.
The 1967 Trophy, designated TR6P, had a model name of 'Saint'. When asked what it stood for, Sales Manager Neale Shilton said 'Stops Anything In No Time'.
Like the Thunderbird (and others) the tank had a recess for a radio, if required, as some were supplied as 'radio ready'. Various combinations of fairings, legshields, panniers and top-boxes were used, according to their duties. Most machines were now delivered in white, or more precisely, 'Motorway White' althought black and other colours could be supplied.
From 1966 production, all machines used 12volt electrics and the old 'Harmonica' tank badge of the Thunderbirds was replaced by the 'EyeBrow' design.
This model was sold between 1967 and 1973. Its sucessors also carried the same name.
1967-570: 1968-977: 1969-852: 1970-1323: 1971-154: 1972-752: 1973-25:
Note that 1971 was also the year that deliveries of the Norton Interpol began.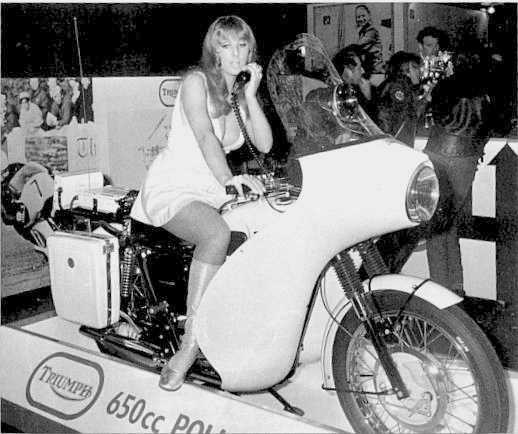 Three Saints and an Interpol