Norton Interpol specs. 1969- on
Bikes
Norton Interpol 1969-76
Specifications
Twin cylinder inclined four-stroke OHV engine
Alloy Head with cast-iron barrels
Bore 750cc 73mm, 850cc 77mm
Twin Carbs - Amal Concentric 530 or 532
Standard 750cc - 9:1 producing 60 Bhp @ 6800 rpm
Standard 850cc - 8.5:1 producing 60 Bhp @ 5900 rpm
750cc Combat - 10:1 producing 65 Bhp @ 6500 rpm
Top speed around 115 MPH (depending on model)
Front - 8" tls replaced by 10.7" hydraulic disc
Rear - 7" single leading shoe
Wheels and Tyres - 4.10 x 19 inch, all models
Isolastic suspension with 'Roadholder' forks
12v electrics, alternator and rectifier, positive earth.
Electric start on later models
1972 Norton Interpol 750cc ex-Lancashire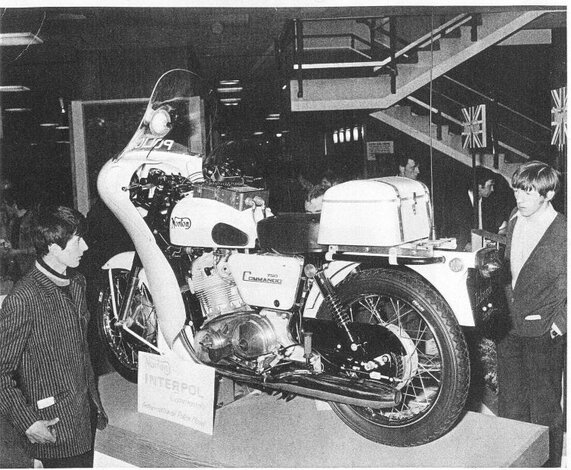 Brighton 1969. First public showing of the original demonstrator. Note the early style exhaust, chaincase, chainguard and knee grips. Radio is a Cossor 104.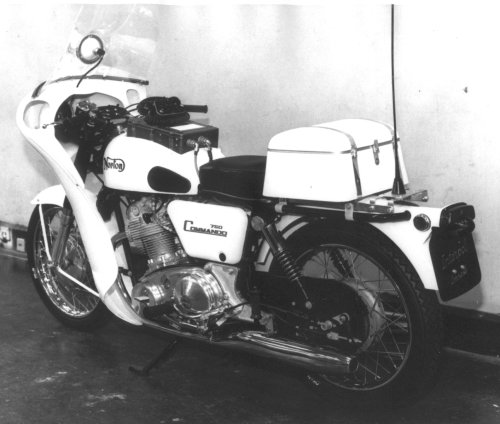 1969 Press Photo Demo (rear)
Another shot of the Brighton machine.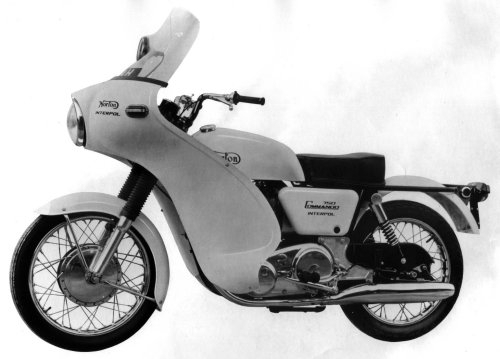 1970s Second demonstrator
Now with front Indicators, no knee grips, early style exhaust, early style chauinguard, later style chaincase. No provision for radio.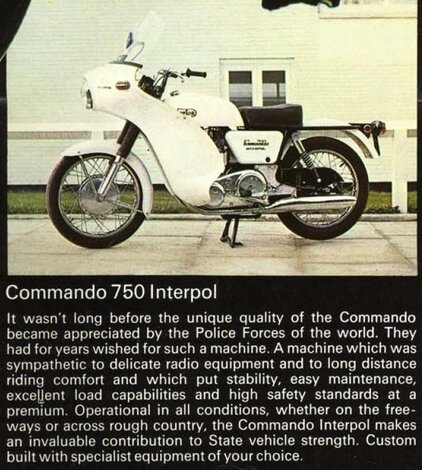 1971 Norton Sales leaflet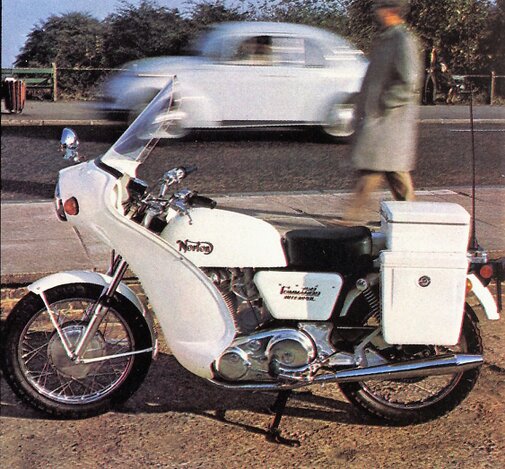 1972 Norton Sales Brochure
1972 Sales Brochure, page 8.
No radio recess in tank. Avon fairing, Amber flashing light, Craven panniers. Drum brakes. Note the slightly upswept exhaust. Mounting screws for relays and two-tone horn controller in side pannel.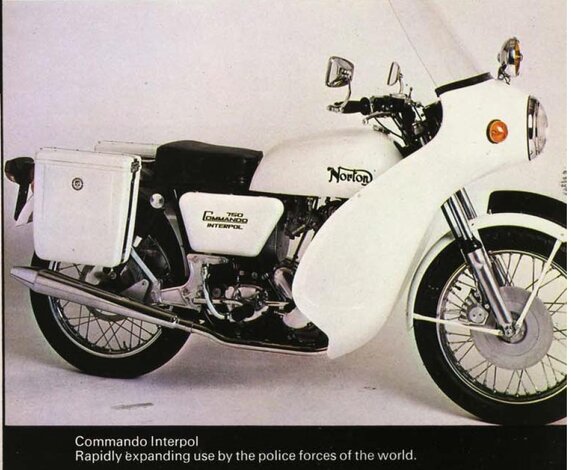 1973 Norton Sales Brochure
1973 Norton Sales Brochure. Identical to those supplied to Lancashire Constabulary. Disc brake, Amber flashing light, standard (sports) front mudguard. No radio recess in tank. Norton Northway fairing, Craven panniers. Note the slightly upswept exhaust.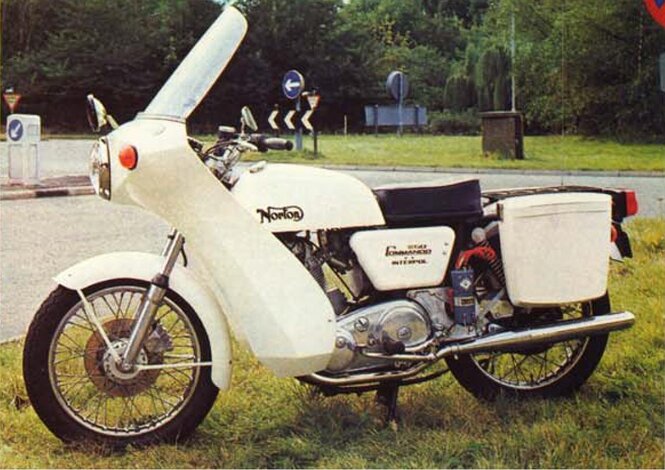 1974 Norton Sales Brochure
1974 850cc machine with Mk3 Northway fairing, PMG Thorpe blue light. No gaiters, later silencers, later tail light, earlier deep front musguard. No recess tank, but with radio plate. Two-tone air horns with relays in side pannel.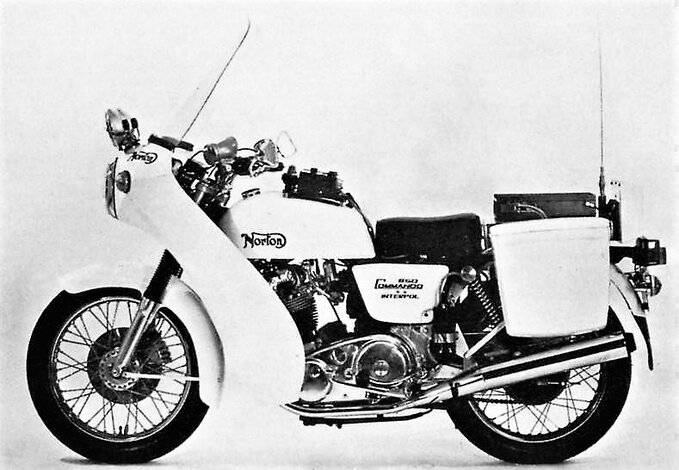 1974 850cc with Storno radio (with controls on tank). Norton fairing, twin blue lights and 'Black Cap' silencers.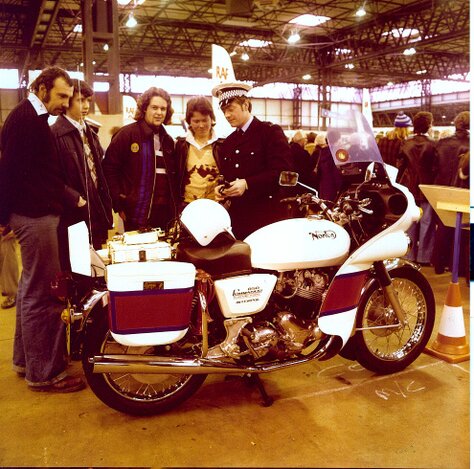 1974/75 850 Electric Start
1974/75 850 Electric Start machine with Avon fairing and panniers, twin blue lights in fairing. Later style 'Police Stop' sign. Pye Westminster radio.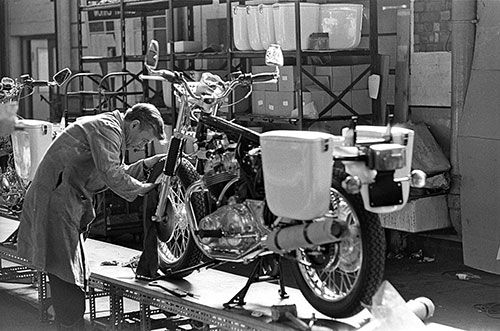 A late model machine being assembled at the factory.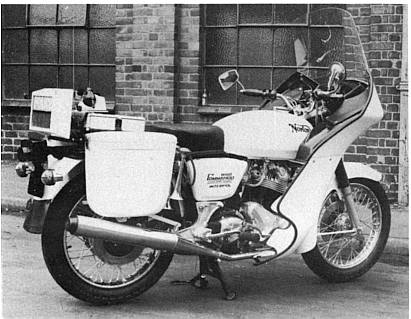 Late model with new fairing
Late model 850 ES with new fairing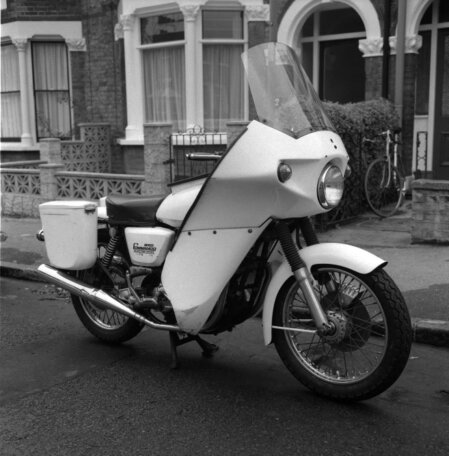 Late model, New fairing, after leaving police service.
As the police version of the Atlas was soon to be discontinued, development of the Interpol was untertaken, rather reluctantly. Norton production and sales were focused on the export market, especilly to the USA, following the introduction of the Commando. Sales of police vehicles had previously been low, but once Neale Shilton joined the company he was able to use his expertise as former Triumph Police Sales manager, to produce a prototype machine that the management finally agreed to put into production.
The prototype was shown at the Brighton motorcycle show in 1969, further developed and demonstrated to police forces across the country and abroad to Neales former clients. Deliveries began in April 1971. Production ceased in 1977.