Honda ST1100p (1989-2002)
Bikes > Honda List
Honda ST1100P PanEuropean
Introduced in 1990 as a lighter and more 'European' alternative to the Honda GoldWing, it soon lived up to its concept as a long-distance shaft-drive tourer.
It could have the optional
antilock brakes
(ABS) and
traction control system
(TCS). ABS model years from 1992 through 1995 have conventional separate front and rear braking systems. After 1996, ABS-equipped bikes have front-rear
linked brakes (LBS)
.
They had an exceptionally large 28 L (7.4 US gallon)
fuel tank
, giving a range of about 300 highway miles (480 km). and a
large 40 amp, air-cooled
alternator
to power multiple accessories such as auxiliary
lighting
and radio's.
(Early models had a 28 amp alternator which could be upgraded to the standard 40 amp police version)
Weighing around 290 kg (640 lb), the ST1100 was no lightweight. The bike was fitted with wing-shaped tipover protectors projecting from the side of the lower part of the fairing.
These would not only protect the bike and cylinder heads in a crash, but, should the rider drop the bike on its side, would prevent this very heavy bike from leaning over so far that it would be nigh impossible to pick up again; the panniers also helped in this matter. The ST1100 low-mounted rear-view mirrors were particularly effective.
Despite its weight, it was quite nimble when on the move and had excellent handling. It soon proved a firm favorite with police fleets as it replaced a number of older BMW's.
Such was its popularity that, due to the early withdrawal of its sucessor, the ST1300, a large number of machines were brought out of storage or back from dealers and fully refurbished and returned to service. Therefore, it is not unusual to see pictures of an older machine with newer equipment on it, and at a location somewhere to where it was first registered.
Engine size 1084cc, liquid cooled.
Engine type V4 16 valve, 6 gears
Frame type Steel double cradle
Seat height 800mm (31.5 inches)
Bike weight 297kg (dry, civilian spec)
Front brake Twin 296mm discs Rear brake single 296mm disc

Front tyre size120/70 x 18; Rear tyre size160/70 x 18
Max power 100 bhp; Max torque 79 ft-lb
1/4 mile acceleration12.7 secs
ABS, TCS, LBS Braking systems option
Once their police service has finally ended, most machines get 'civilianised', which is quite an easy job. So is changing its colour, especially if you have a set of spare pannels. However, many have continued a working life as 'Blood' bikes, Marshalls, test examiners bikes and similar - but fortunately a lot went into preservation.
Thanks to the preservationists, we can still see the various force liveries and equipment changes on display that were made over the years, as well as those operated by the MoD, RAF, AA and others.
There is always a down side, and the ST1100 has a few. Swinging arms rust through, alternators get corroded into position, batteries don't seem to last that long etc. what's new?
So, while some people are saying that the engine is good for 250,000 miles, some are broken up at less than 50,000 miles - well, at least there is a source of second-hand spares as originals are very expensive.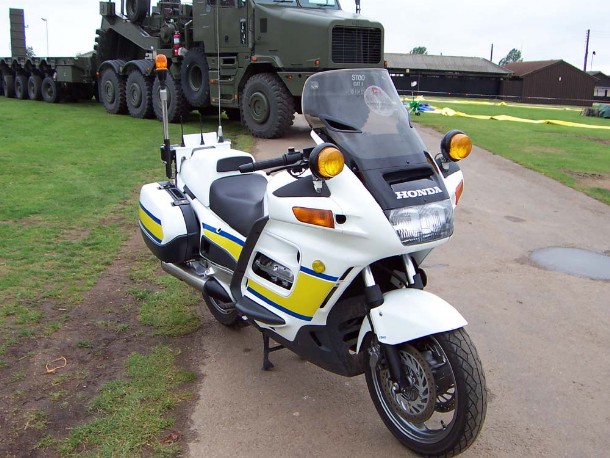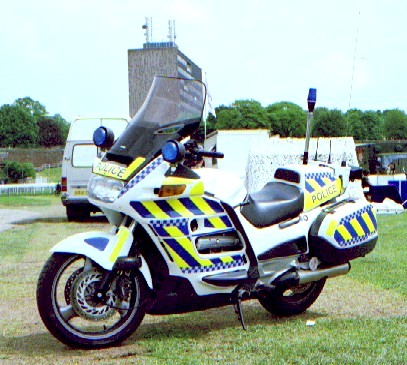 Cheshire Police on display at Chester
Short lived 'Tiger Stripe' livery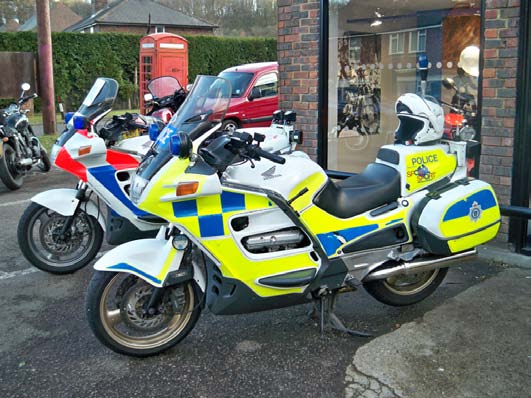 Pan European ST1100 Compilation