Honda GL1800 Goldwing
Bikes > Honda List
Honda GL1800 Goldwing
The Honda GL1800 Goldwing came into the showrooms in 2001. Replacing the aging GL1500,
it was lighter and faster, new frame, better brakes with ABS, it was now a genuine sports tourer as
opposed to just a tourer. With it's super smooth six cylinder engine together with all the extras
including the AM/FM radio system, cruise control and an electronic reverse gear, it was now the
ultimate touring bike. Police agencies in the USA took the GL1800 onboard their fleets straight away
with San Antonio PD, Texas being one of the first to replace their fleet of aging GL1500s'. Goldwings
are fitted up with a huge array of police accessories such as can be seen from the pictures of one
of the San Antonio traffic units. Perhaps this might be the ideal police motorcycle to work all-day
long on with it's superior comfort as well as excellent handling.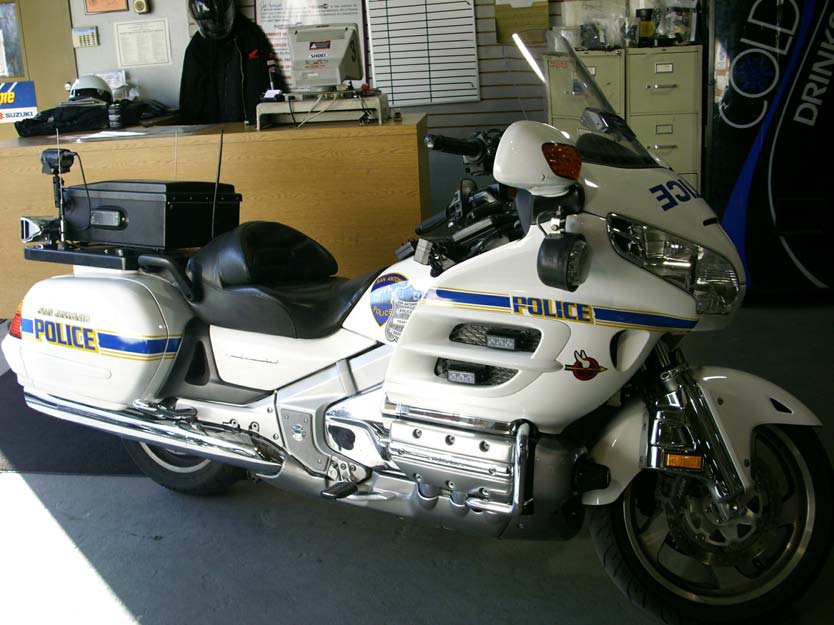 FEATURES AND EQUIPMENT
Full fairing, crash bars,
solo / dual seat, panniers,
blue / red strobe warning lights,
electronic siren,
optional modulating headlight,
rear blue / red light bar,
radio system
ENGINE:
Four stroke, opposed six
Capacity: 1832cc
Maximum Power: 116bhp
Transmission: 5 speed, shaft final
Wheelbase: 1690mm
Weight: 798lb (363kg)
Speed: 130mph (208kph)